Move your mouse over the image and click to zoom in
Diana rescues a young man
Monogrammist D, active in France second half of the 17th century
Etching. Size of plate: 18.8 x 23.2 cm. Size of sheet: c. 22.4 x 33.5 cm.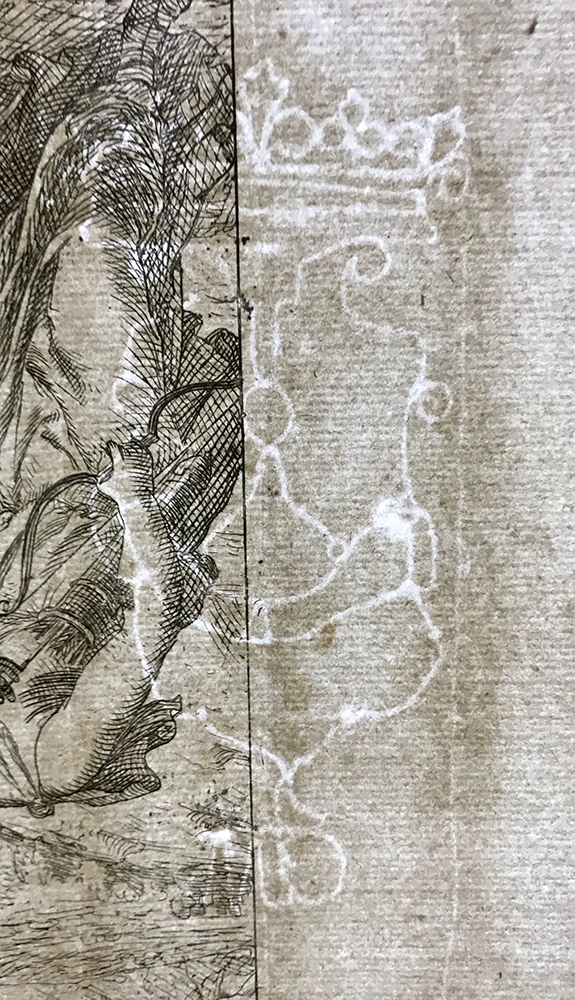 Watermark: horn inside crowned coat of arms above letters CM or MD, with a straight crown.

Literature: Nagler, Die Monogrammisten, no. 890, Unknown 17th century painter, probably belonging for the French school, I/II;
Brulliot no. 70;
Fine impression with wide margins of the first state before the lettering D: Titian in. F.Bourlier excu. P.R.C.
Lettered .D. in the bottom right.
Published by François Bourlier (active between 1651-1682).
According to Nagler this is the only etching by this unknown artist. Unusually, for just one print, he devotes a fair deal of attention to this particular printmaker in his entry. It seems that he corresponded with Baron von Rumohr (Karl Friedrich von Rumohr), who first proposed a French artist rather than an Italian reproduction printmaker as previously suggested (Brulliot, App. II, no. 70).
Rumohr, not knowing the second state with the inscription to Titian, believed it could have been an artist from the Carracci's circle and mentions Gerhard Duffet (Doufeet or Duffeit, 1594 - 1660/1661), who was a Flemish artist close to the school of Rubens. As Nagler concludes, probably neither Rubens nor Titian are the inventors of this composition.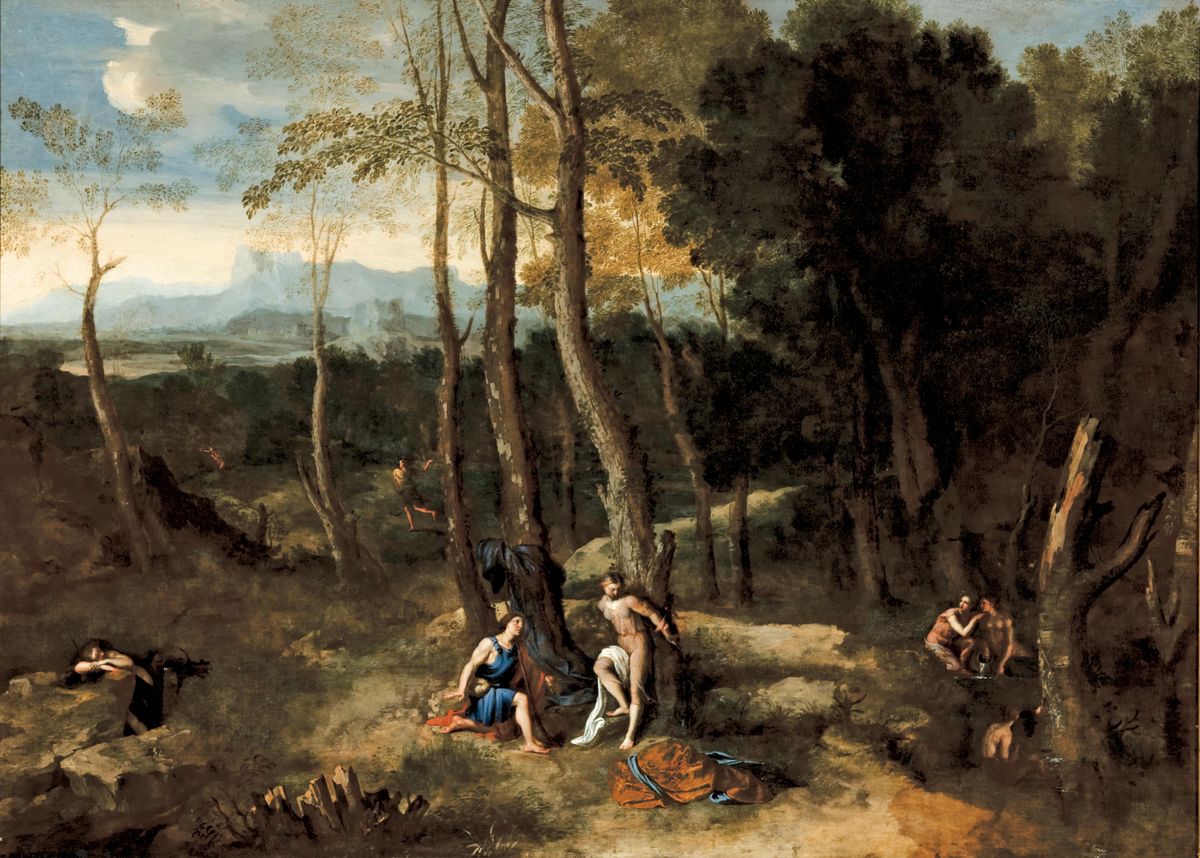 In this unusual and intriguing image Diana and a follower are rescuing a young man tied to a tree by a satyr. Such a scene recalls the episode in the 16th century pastoral play Aminta by Torquato Tasso (1544 – 1595), where a lustful satyr has tied the nymph Silvia to a tree and the shepherd Aminta rescues her. An example of the success of the subject in 17th century France is the painting Aminta about to rescue Silvia by Gaspard Dughet (1615 - 1675) (1).

Nagler takes it for granted that the man represented in our image is Apollo. If we assume that this is the case, the scene might represent a sort of inversion of Apollo and Marsyas' episode, where this time the God is tied to a tree and rescued by his sister Diana.

We are grateful to Paul Holberton for noting a possible connection between the two male figures and Pan and Daphnis as well as suggesting a very interesting reading of the scene as an allegory of chastity. The satyr would somehow stand "for the young man's own lust, from which he is liberated by the approaching Diana"; for that, he is throwing her a grateful glance and she "smilingly indicates what she has done for him" (2). However, according to Elizabeth McGrath, the presence of a follower of Diana would look strange in an allegorical context and both the format and the composition suggest more of a narrative scene (3). Our thanks to Elizabeth McGrath and Paul Taylor from the Warburg Institute for their help.

(1) Art Gallery of South Australia, Adelaide, inv. 0.1461, c. 1633-5, oil on canvas, 99.2 x 136 cm.
(2) Email correspondence, 3.2.2022.
(3) Ibid.
£ 1,800.-