Move your mouse over the image and click to zoom in
Bacchanal 1636–65
Michel Dorigny
* 1616 in Saint-Quentin † 1665 in Paris
Etching and engraving. Size of sheet: c. 31.8 x 30.4 cm.
Literature: Dumesnil IV.252.6 II/III;
I.F.F. 6;
D. Tellas, Michel Dorigny 1616-1665, Paris 2019, illustrated with the preparatory drawing, p. 33.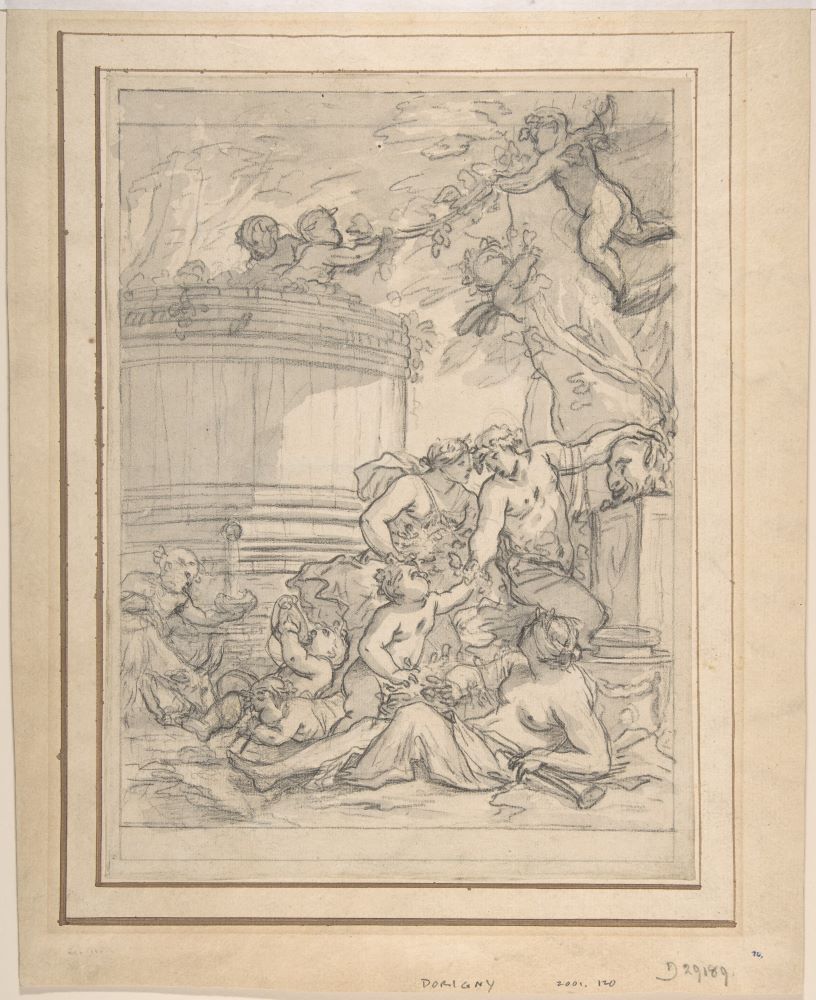 Beautiful and dark impression with large margins of the second state, before the number.
Lettered bottom left M. Dorigny in. et fecit Cum privil. Mariette.
Published by Pierre Mariette I (c. 1603-1657).
From the series of six Bacchanales.
With figures surrounding a large vat for wine, this particular image celebrates the process of making wine.

The black chalk preparatory drawing for this print is in the Metropolitan Museum of Art, New York (inv. 2001.120, see D. Tellas, Michel Dorigny 1616-1665, Paris 2019, cat. n. 2).
Besides his printmaking activity after Vouet's works, Dorigny designed and engraved around twenty plates after his own design (1). A group of black chalk drawings both in public and private collections have been identified as the compositional studies for five of the six etchings of the Bacchanal series, all in reverse and indented for transfer (2). In the preparatory drawings as the one displayed here, "backgrounds are only summarily sketched in, and details of foliage, bark and clouds were presumably worked out directly on the copper plate".
(1) P. Stein, French Drawings from the British Museum. Clouet to Seurat, London, 2005, p. 85.

(2) Paris, École Nationale Supérieure des Beaux-Arts, inv. EBA PM 562 and 563; London, British Museum, inv. 1952.0121.17; New York, Metropolitan Museum, inv. 2001.120; Australia, Private Collection.
(3) Stein, French Drawings, p. 84.
Sold