Move your mouse over the image and click to zoom in
A magnificent copy of the Carceri as published by Piranesi in a combination volume.
Giovanni Battista Piranesi
* 1720 in Mogliano Veneto † 1778 in Rome
Etchings and engravings. 53.7 x 40 cm.
A. Carceri D'Invenzione Di G. Battista Piranesi Archit. Vene.
Sixteen engraved and etched plates including title Rome: Giovanni Battista Piranesi, before 1770.

B. Opere varie di Architettura, prospettiva, grotteschi, Antichità.
Letterpress title page followed by 17 full page etchings, 5 pages with two smaller etchings and 6 double-page etchings. Rome: Giovanni Bouchard, 1761.

C. Trofei di Ottaviano Augusto.
Double page letterpress title printed in red and black with large engraved vignette, 9 plates, including 5 double-page, engraved captions printed separately below images. Rome, 1753.

D. Antichità Romane de' Tempi della Repubblica, Parte Prima & Parte Seconda.
30 etchings, comprising 2 etched part-titles, dedication leaf, leaf of inscriptions, leaf of inscriptions and index, and 25 plates. Rome, 1748.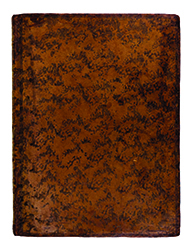 All plates in superb dark impressions with considerable burr on thick Roman paper. In very fine condition and with large margins.
All together bound in large contemporary Italian calf Folio, (53.7 x 400 cm).


Literature A. Hind, Giovanni Battista Piranesi, A Critical Study III, 1-16, state III;
A. Robison, Piranesi Early Architectural Fantasies, A Catalogue Raisonné of the Etchings, 29-44;
J. Wilton-Ely, Giovanni Battista Piranesi, The Complete Etchings 26-41.

Provenance: Private American collection.

A magnificent copy of the Carceri as published by Piranesi in a combination volume, as described by Andrew Robison. This is the first printing of the "dark" series of Carceri after Piranesi radically reworked the engraved plates, adding substantial details and, more particularly, heightening the light and dark tones and infusing the images with dramatic shadows and disturbing, haunting imagery. A large-margined, fresh copy on thick paper, printed and published by Piranesi himself.

Piranesi originally etched a set of 14 plates during the late 1740s, issued anonymously under the title Invenzioni Capric di Carceri all Acqua Forte Datte in Luce, published in 1750. This first series must be viewed as an intensely private work, not for the audience that his Prima Parte di Architetture, e Prospettive (1743) nor his Vedute di Roma (1748-1788) were intended, i.e., visitors on the Grand Tour. The first issue etchings exhibit more purely decorative inventions that can be viewed as an experiment in a "Venetian" graphic style.

However, something changed between 1750 and 1760 when Piranesi went back to the Carceri plates and began to rework them, adding extensive detail to the plates, creating two complete new engravings and, most importantly, impregnating the plates with double biting of harsh black diagonals, enclosing the spaces with nightmarish light and dark contrasts and gloomy shadows, and emphasizing the instruments of torture: chains, ropes, metal cables, iron grills, gallows, spiked wheels, powerful and sinister indistinct instruments, large block and tackle pulleys, and endless stairways heading up and down but offering no exit.

"The disturbing psychological atmosphere of these architectural fantasies has caught the imagination of many artists over succeeding centuries. Their menacing, exotic atmosphere inspired the Romantics of the 19th century, while the Surrealists of the 20th century admired their irrational portrayal of objects in space" (St. Louis Public Library, The Steedman Exhibit). The numerous writers and artists that came under the spell of Piranesi's Carceri would have found but little inspiration in the early states of the Carceri series.

"In this series of variations on a theme, Piranesi attacked his copperplates with a boldness and spontaneity unmatched in any other work of his time. One of his goals seems to have been a thorough exploration of the tools and techniques of the etching medium" (Metropolitan Museum of Art, Heilbrunn Timeline of Art History, The Round Tower: Plate 3 of Carceri, ca. 1749-60).



Price on request